KAB graduates over 1200 students, graduates urged to address relevant community problems
Esther Ayebazibwe
The Chancellor, of Kabale University Prof. George Mondo Kagonyera has upon graduates to propagate the knowledge and skills acquired at the university back to their societies. "We have prepared you to be critical thinkers so that you go back to and help your communities to solve those problems.
The Chancellor has been speaking at the 7th graduation ceremony held at the Kikungiri campus, in which over 1200 students have graduated. The graduation has been celebrated under the theme 'Nurturing Graduates for Lifelong Learning and Relevancy for Societal Transformation'.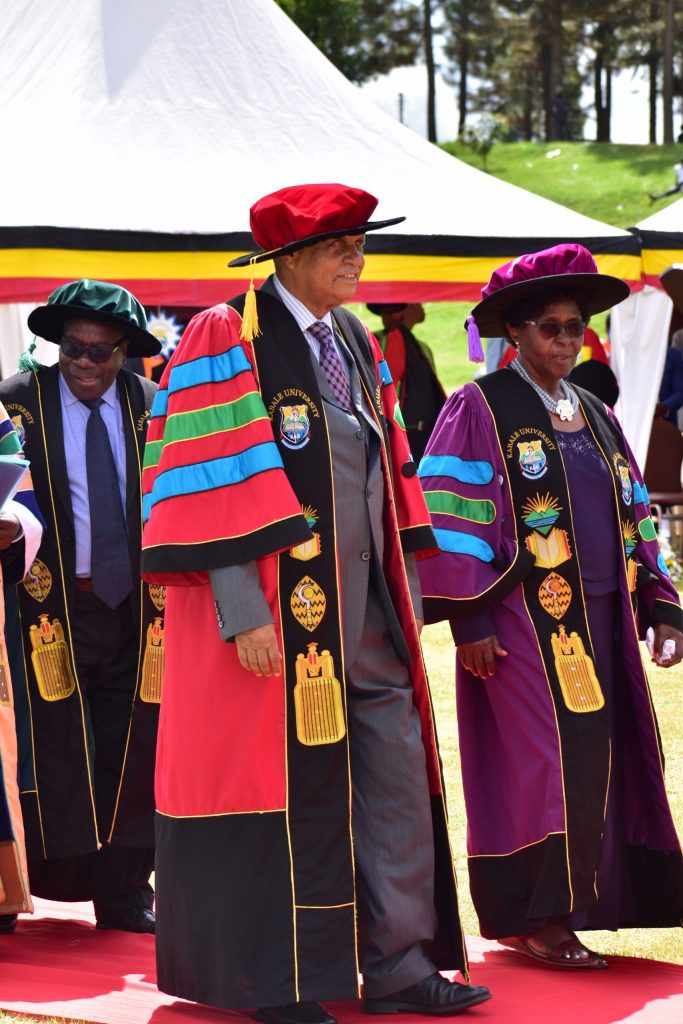 Prof. Kagonyera further urged management and staff to continue conducting needs assessments in the communities around the university to ensure effective community engagement. He noted that conducting research and properly implementing findings will help find solutions to the problems the local communities are facing. He cited how silicon valley has become one of the world's leading innovation cities through high-quality research.
The Chancellor further noted that the university has been outstanding in employing highly qualified staff who are fundamental in training the students. He commended them for working hard and graduating proactive students despite the few physical buildings at the university.
"I want to encourage you that it is not the structures in which you are doing the work but the work that you are doing that matters. However, I would like to call upon the government to provide funding for developing our great university", Prof. Kagonyera added.
He appreciated the government of Uganda, and the President for funding the university but stressed the need for government to support the university to build structures that will cater to the growing needs of the university.
The VC, Prof. Joy Kwesiga asked the graduates to keep an open mind to learning because the world keeps changing, so learning becomes a continuous process. She further urged the graduates to go out in the world and be ambassadors of the KAB brand, maintaining a high level of integrity and to keep telling the truth.
Of the total number of graduates, over 700 were male, and over 500 were female. Prof. Kwesiga recognized 32 students who graduated with first-class degrees. The best-performing students were Mike Mashemererwa and Sarah Nakero, who were identified as the top male and female students respectively.