Kabale University Launches Creative Writing Project
Godfrey Sempungu Joseph
In keeping in line with its mandate of empowering students with a multiplicity of skills, Kabale University has launched a creative writing project. The project, which will involve a series of workshops, will run from February to May 2022. The workshops intends equip all students interested in creative writing with the skills to write a variety of literary works. Prof. Egara Kabaji, a visiting Scholar from Kenya on Inter University Council of East Africa (IUCEA) Mobility Programme, spearheads this project. Dr. Constance Tukwasibwe, the head of the Department of English Language, officially launched the project.
Prof. Egara Kabaji, renowned scholar and creative writer, will be running the workshops until May 2022 when, it is expected, that the participants will have acquired the necessary skills to write publishable creative works.  Speaking during the launch, Prof. Egara Kabaji, noted that the 21st century has created many opportunity for creative writers to prosper. "There are so many opportunities for marketing creative works," He argued that only those who are determined and ready to work hard will succeed as writers. "Writing is an intensive process. It is one percent inspiration and ninety nine percent perspiration," he said.
Quoting Sydney Sheldon, the re-known prolific American writer, Prof. Kabaji asked students not to start with hope for big money from writing. "Money follows success in mastering the skills and writing well". Prof Kabaji said.
He emphasized that it is important to set up a disciplined schedule if you have to complete your project. Those interested in becoming writers should not only write when the muse sits on their shoulders. Kabaji noted that there are two kinds of writers: those who want to write and those who have to write". Many people want to be writers but they are not ready to pay the price of being writers.
Prof. Kabaji noted that writing is an exciting profession. The writer is able to play the role of a god. He creates his own exciting worlds and puts people and other wonderful creatures in this world, which he controls it.
The workshops are meant to arouse the imagination of aspiring creative writers and infuse a variety of qualities important for a writer. These qualities include persistence, perseverance, empathy, style patience, hard work and a sense of purpose.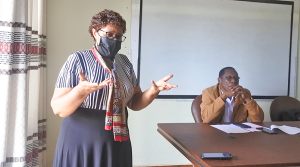 In her remarks, Dr. Constance Tukwasibwe thanked the students for embracing the programme. She asked the participants to find a way of sustaining the programme even after Prof. Egara Kabaji's visit end in May 2022. Through their representative, Nyakato Sylvia, the student expressed their gratitude for the initiative. "The program will enable us to discover our hidden potential as creative writers," she said