Practice social work as a duty to others; not as a job!
Esther Ayebazibwe
The World Social Work Day 2023 celebrations have been held at Kabale University in the Faculty of Arts and Social Sciences at the main campus on Kikungiri Hill. The event that was held today was celebrated under the theme "Respecting diversity through joint social action".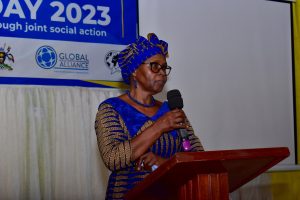 Speaking at the function, the Vice Chancellor, Prof. Joy Kwesiga noted that social work was an important profession that directly touches the live of people. She noted that the practice of social work should be built on 'Ubuntu', a value that helps workers to be empathetic. "When you are empathetic, you do social work practice as a call of duty to others. A social worker should be kind and value the lives of the people they serve", she added.
Prof. Kwesiga further called on social workers to localize their service through community engagement. "There are many street children in our society who abuse drugs and they need social work intervention. Many of these children are from homes which have been overtaken by domestic violence", she further said.
The Dean Faculty of Arts and Social Sciences, Prof. Katusiimeh Mesharch noted that the profession had been hit by the COVID 19 lock-downs. "This was a period when people needed social support most. However, are glad that we have come out of this", he noted.
The Keynote presentation was made by Prof. Sabiiti Makara who noted that social work practitioners still needed to work on challenges in the community. He noted that social workers still needed to address social challenges such as domestic violence, depression, increased murders, high numbers of refugees and individualism brought about by capitalism.
The function was attended by social work students and members of staff of Kabale University and other institutions of higher learning in the Greater Kigezi region. It was organized by the Faculty of Arts & Social Sciences and the National Association of Social Workers in Uganda.