The new Assistant Director Internal Audit (Mr. Benson Barigye) Assumes Office
Sandra Atukwatse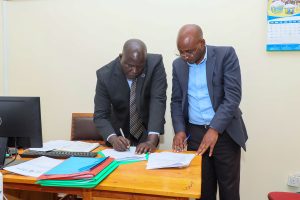 In a ceremony presided over by the Asst. Director, Human Resource Management (Mr. Arinaitwe H. Emmanuel), the office of Internal Audit witnessed a peaceful transition of power. This was between Mrs.Gloria Arinaitwe (Asst. Internal Audit) and Mr. Barigye Benson (Asst. Director, Internal Audit).
Mr. Arinaitwe opened the ceremony by thanking Mrs. Arinaitwe for an exceptional performance since she took office. He noted that the sudden demise of the late CPA Bigabwa left a gap in the Internal Audit office but she filled it so seamlessly.
"…Gloria, I want to thank you for steering this office to the point that you now have something to hand over to the incoming director. "
He went ahead to congratulate the new assistant director Internal Audit upon his appointment and reiterated that the University management has high expectations of him.
Mrs. Arinaitwe previously held the position of Acting Internal Auditor for six months – following the demise of the late CPA Martin Bigabwa. During her remarks, she thanked the KAB management for giving her the opportunity to hold the office for the past six months. She assumed the responsibility of Ag. Internal Auditor on 1st July 2022.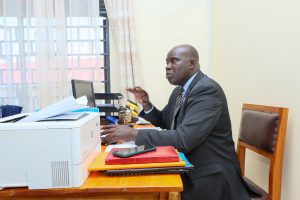 Among her achievements during that period was acquisition of all accountabilities from the university's departments, witnessing of all departmental hand-over ceremonies, as well as handling all management requests on impact projects among others.
She urged Mr. Barigye to complete the work which has been left uncompleted. In conclusion, Mrs. Arinaitwe welcomed the newly appointed internal auditor and pledged to work harmoniously with him to ensure that the university realizes its goals.
Mr Barigye Benson (appointed internal auditor) thanked and appreciated the board and management of Kabale University for appointing him to the office. He also appreciated Mrs. Arinaitwe Gloria for welcoming him to the office and the great work she did while in the office.
He also thanked the public relations office and the IT department for letting the public know what takes place in the audit's office.
He assured to work with the entire management team towards the achievement of the university goals. Mr Barigye Benson promised to identify what had gone wrong and put the mechanism in place adding that he will make sure that the management does the internal controls, the council meets in a described format, have enough manpower.