University management meets the outgoing Guild leadership
Sandra Atukwatse
18 th November was the day that the University management came together to meet the outgoing guild leadership.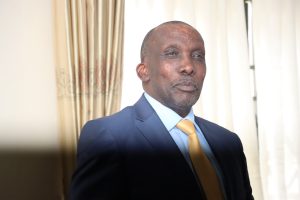 The event was attended by a number of members of University management including the University Secretary, Deputy University Secretary, Librarian, University Bursar, Dean of Students, and the DVC FA who had represented the VC. In his speech, the University secretary Mr. Baryantuma Munono thanked the leaders for having organized and invited members of management to the wonderful event. In his words, he said that the students were doing great and wonderful work in building their own university and being well-behaved.
He applauded the students especially the outgoing leadership for portraying a good image of the university by avoiding unnecessary strikes and being exemplary."You cannot be a leader and go home with a pass degree" Mr. Munono while speaking to the outgoing students' leaders encouraged them to be mindful of their grades and always portray that they are products of Kabale University. In conclusion, he thanked the Dean of Students for always handling students in a right and most friendly way.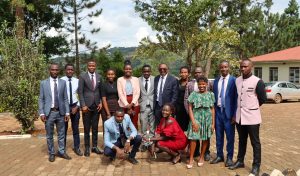 In her mini speech, Ms. Anny Bwengye Katabazi who had represented the Vice Chancellor asked the students' leaders to always treasure their education and their discipline adding that a good character will open doors both in their discipline and usual life. "As the University we are very open and willing to work with the new government" Ms. Anny further encouraged the students to always report their issues to the Dean of students early so that they can be presented in management in time. Godwin Ainobusingye who is the outgoing Guild president thanked his parents who were present for having brought him to Kabale University and giving him a good upbringing, which has made him the kind and responsible man that he is as of now. Ainobusingye said he has learned a lot while serving in the University Guild and he has hopes of having a brighter future.