Be A New Breed of Senior Academic Staff: Others will cite you as good examples
Sandra Atukwatse
Senior Academic staff that were recruited recently were officially oriented into the University today, 13th January 2023.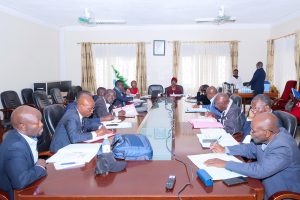 In an orientation held at the University Boardroom and overseen by the University Vice-chancellor, the new staff members were welcomed and asked to prioritize their jobs and commit to the university.
The Vice-Chancellor, Prof. Joy C. Kwesiga, in her welcome remarks mentioned that the University values are what they all must lean on in order to drive performance adding that the University has high expectations of them.
She furthermore encouraged them to mentor the younger and junior staff in their respective faculties and departments in order to help them grow both academically and professionally.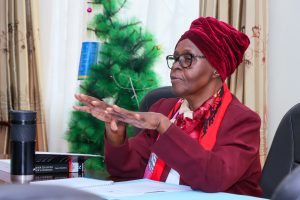 "Point out the good practices you learned outside Kabale University and bring them here…" said  Prof. Joy C Kwesiga
In her speech, Prof. Joy C Kwesiga encouraged the new Senior Staff to understand their institution especially the governing body of the University, the University Management, Administrative offices, and the students in the University.
Dr. Akena Francis Adyanga who read out the Academic Registrar's speech congratulated the new staff upon their appointment and asked them to be goodwill ambassadors of the University emphasizing that they are a new breed and they need to propagate their goodness on to the other members of the University.
The new staff members who attended the orientation were asked to figure out how they are going to position themselves in terms of making their contribution to society, that is, in ways that are recognized not only in small territories like departments but outside the University.
In attendance was Ms. Anny Katabaazi Bwengye, the DVC in charge of Finance and Administration who encouraged the staff to make themselves familiar with the content of the University and Other Tertiary Institutions Act 2001 which governs the Public Universities in Uganda.
Ms. Anny Katabaazi Bwengye  welcomed new staff to Kabale University and in conclusion, made a presentation that introduces the processes particularly the governance and management staff of the University.
The orientation was attended by the Vice Chancellor, DVC F&A, Director Human Resource Management, Asst. Director Human Resource Management, Dean Faculty of Education and New senior Academic Staff.