KAB holds bash to inaugurate new students in the University
Esther Ayebazibwe
The Deputy RDC Kabale district, Mr. Bakaki Ronald, has urged new students at KAB to be principled and avoid immoral behavior that could lead to tragic consequences such as deaths which have occurred in the past in higher institutions of learning. He said this while officiating at the Fresher's Bash that was held at Kabale University main campus over the weekend to welcome new students that joined the University in February this year. "I want to caution all of you to desist from having multiple partners and encourage you to prioritize your education instead of seeking materialist pleasures which will deter you from achieving your goals in life", he added.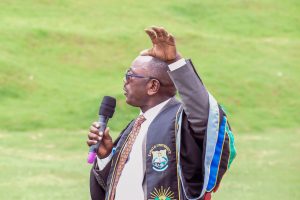 Speaking at the same function, the Dean of Students, Mr. Amos Tukamushaba advised new students to have discipline as a way to achieve great success in their course of study. Mr. Tukamushaba cautioned the students against exam malpractice which could lead to  cancellation of their semester. "I encourage you to read hard as you prepare for the up-coming exams that will start on 5th May. You should strive hard to complete your course in the stipulated time", he added.
The Guild President, Mr. Diaz Drake Owoyesigire highlighted on the achievements the Guild Council has made, including the establishment of canteens, internet stations, and printing centers. "The guild council has been working tirelessly to make life easier for students, and we continue to work hard to make it even better", he said. The Guild president further called on students to remain calm and to keep supporting the Gild council members to. He also commended the members of management for cooperating to make the bash a success.
The Deputy DISO Kabale District, Mr. Gerald Turyamureba noted on security concerns such as night robbery, attacks, and theft that affect students in the region. He advised the students to be vigilant, travel in pairs, and report any criminal activities to the police. He further emphasized the importance of health, education, and discipline, noting that these are the keys to a brighter future.