KAB Civil Engineering student awarded with a micro-grant of 990 GBP
Esther Ayebazibwe
Emmanuel Nuwagaba, a final year student of Bachelor of Civil Engineering at KAB has been awarded with a micro-grant of 990 GBP, an equivalent of about 4.4 million UGX to execute a project on 'Modeling and Analysis of Bio Retention Systems for Removal of Stormwater Pollutants' by the Uganda Institute of Professional Engineers.
Nuwagaba's project aims at solving the problem of flooding and producing clean water for domestic use and irrigation without using chemicals, but capturing and treating stormwater using the natural properties of soil and plants to remove pollutants.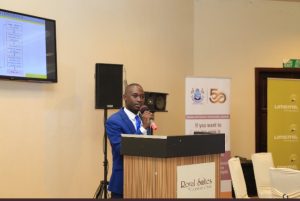 In his study, Nuwagaba states that stormwater transports eroded soil, animal wastes, litters, salts, pesticides, fertilizers, oil and grease and other potential pollutants which flows directly into the streams and rivers. This impairs the stream water quality and thereby causing a decline in aquatic biota.
He further states that bio-retention is the stormwater best management practice designed to capture and treat the runoff using the natural properties of soil and plants to remove pollutants.
The President of the UIPE, Eng. Andrew Muwhezi who presided over the awarding ceremony of the micro-grants to Nuwagaba and the other 5 students says that these projects will impact on the livelihoods of Ugandans. Eng. Muwhezi further called upon the awardees to accomplish the projects in time so they can acquire more opportunities in the future.
Nuwagaba's project was supervised by Dr. Abdulkadir Taofeeq Sholagberu, a Senior Lecturer and Visiting Scholar in the Faculty of Engineering, Technology, Applied Design and Fine Art at KAB. The money obtained will be used to execute the project in the community in a period of 3 months.
The microgrants are supported by the Royal Academy of Engineers in UK and the Uganda Institute of Professional Engineers. The Academy runs a programme of grants and prizes to support and celebrate the pursuit of engineering activities and to enable closer contact between academia and the industry.