KAB orientation of new students concluded: over 3000 registered for the academic year 2023/2024
Esther Ayebazibwe
The two-week orientation program for new students has officially concluded today marked by an official closing ceremony led by Vice Chancellor Prof. Joy Kwesiga.
The ceremony, hosted at the KAB Kikungiri main campus, saw the attendance of  members of the University Management, Faculty Deans and Directors, Department heads, and Staff. In attendance, more than 3000 students, including those enrolled in undergraduate programs and the Education Recess program admitted for the academic year 2023/2024, were official welcomed in the KAB student community.
The ceremony commenced with a speech by Rev. Can. Medard Rugyendo, an Associate Professor in Religious Studies within the Faculty of Education. In his address, he urged students to value and make the most of their time while at the university, emphasizing the importance of being responsible timekeepers. "No matter the task at hand, it is essential to meet deadlines. Ensure that you complete your coursework promptly. Choose friends who will support you in achieving your academic goals, as negative influences can hinder your educational journey", Rev. Can. Rugyendo added.
Ms. Lucky Ariho, an Assistant Lecturer at the Institute of Languages, emphasized the importance of dedication to one's studies in order to attain their academic goals during her address. She cautioned students about the influence of peers and advised them to be mindful of their associations, reminding them that they came to the university as individuals.
Furthermore, Ms. Ariho highlighted that KAB was committed to nurturing all-round graduates and stressed that the gathering aimed to prepare students for a successful journey on campus. She commended the students for making the right choice in pursuing their educational careers at KAB.
The Vice Chancellor Prof. Joy Kwesiga emphasized the need for students' dedication to their studies, highlighting it as the primary reason they had chosen to join the institution. She specifically addressed female students, advising them to refrain from cohabiting with male students, which could potentially impact their academic performance.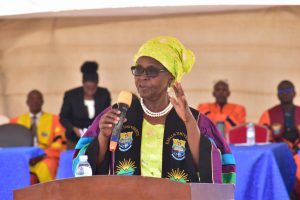 Prof. Kwesiga noted that some girls might divert their attention to domestic responsibilities for male students who are focused on pursuing their educational aspirations. She encouraged female students to prioritize their education and delay marriage.
The University Secretary emphasized that all incoming students were integral members of the university community and encouraged them to familiarize themselves with the university's culture. He also urged students to familiarize themselves with the various university policies and information, particularly by accessing the university's website, siting that ignorance of the law is no defense.
Can Munono further reminded students to remain grounded, emphasizing the importance of understanding their backgrounds and not elevating themselves to unwarranted social statuses, which will affect their academic journey. He acknowledged the ongoing challenges related to infrastructure but expressed optimism about future expansion plans, contingent on sufficient government funding.
The student orientation program which commenced two weeks ago, has encompassed training in E-learning, acclimatization to campus life, guidance and counseling sessions, as well as faculty orientation. The primary objective has been to ensure that students are well-prepared for the commencement of classes scheduled for September 4th.