Kabale University Team engages National Inspectors of Schools
Collins Mann
On the 29th of June, a combined team from Kabale University was invited to the Uganda National Inspectors of Schools General Assembly. This was hosted at the Kabale National Teachers College. The team made a presentation to the audience about the role of Public Universities in national development. This national inspectors General Assembly was a two-day gathering that brought together all inspectors of schools in the country for a two-day retreat.
The KAB team was ushered to the floor by the University Senior Communication and Brand Officer, Godfrey Sempungu who also brought it to the awareness of the gathering that the public Universities fraternity was robbed of the Vice-Chancellor of Muni University. The assembly held a moment of silence in remembrance of the late Prof. Christine Dranzoa. Sempungu highlighted the mandate of the government of offering education to all Ugandans. It is in line with this mandate that KAB was made a public university that is Uganda's southwestern-most public university.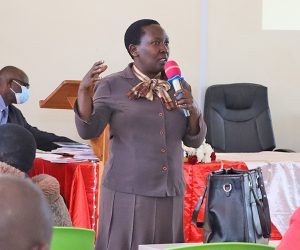 In living up to this aspiration, the university has widened her community engagement, research activities and teaching roles. In the emphasis on this Dr Christine Ampumuza who made a presentation on the three-fold mandate of the university highlighted the areas where KAB's tentacles have been felt. She highlighted the community-focused transition that KAB and the nearby environment enjoy. Ampumuza mentioned some of the achievements that KAB has attained in the few years after its transition from a private to a public institution.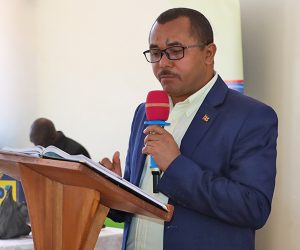 The last presentation was made by the University's Senior Assistant Registrar in charge of admission, Mr Mike Lukundo. He explained to the inspectors the different programmes that KAB is running in its attempt to fill the manpower gap that we have as a country. The growth of KAB from offering only undergraduate to several graduate programmes including PhD's is a testament to the hard work of the University partners towards the fulfilment of the university mandate.
Several of the participants appreciated the presenters from KAB and many expressed their gratitude. The General Assembly was closed by the Resident District Commissioner for Kabale District Mr Godfrey Nyakahuma who urged the inspectors to be good advocates for the government programmes and responsible stewards. He urged them to put what they had discussed into practice and to always be fast to do the right thing. He decried the rise in resistance that we see today among many civil servants.
View Events Photos Below