Post Graduate board approves new programs in the Faculty of Agriculture and Environmental Sciences
Sandra Atukwatse
Postgraduate education at Kabale University is gaining momentum and the direction of the University is to expand this portfolio and improve the quality of services. Several of our graduate students are assured of quality teaching and supervision. Prof. Benon Basheka the Chairperson of the Post Graduate board who also doubles as the DVC (Academic Affairs) has said that the post-graduate Directorate will expand its share of the eLearning once the studio that is under construction is completed. Some postgraduate programs will be offered through online means. The eLearning studio once fully completed will provide a new exciting experience for both lecturer's online teaching and students' learning.
During the 8th post-graduate meeting held on 6th, July in the University board room, the DVCAA called upon members to come up with new strategies on how they can market post-graduate programs and increase student enrolments but also offer excellent services to those admitted.
He emphasized quality research supervision of postgraduate students as part of a marketing strategy and encouraged all postgraduate supervisors to put more quality time into what they do. Prof. Basheka argues that the university has registered an increment in Postgraduate applicants every year and this is a sign that students have found the relevance of the University's courses.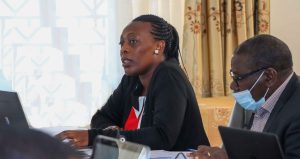 Ronah Arinanye Tugume the Senior Assistant Academic Registrar in charge of Postgraduate revealed that 250 have so far been admitted.
In the same meeting that was attended by the Director of Graduate Training, the Academic Registrar, Deans, Directors, and Representatives from different Faculties that offer post-graduate programmes, the board approved and proposed new programs in the Faculty of Agriculture and Environmental Sciences as follows:
Doctor of Philosophy in Environmental Science by Research
Doctor of Philosophy in Climate Change Science by Research
Master of Science in Agricultural Economics
Master of Science in Plant Breeding and Seed Technology
Master of Science in Agriculture Extension and Innovations
It should be noted that the university plans on having all post-graduate courses studied fully online in a new wave of embracing Digital Transformation.
On the basis of the quality and relevance of the Competence in Digital Education project, only six African universities were selected for support and funding! Kabale University is grateful to be among the six selected Universities
The University has been implementing a Centre of Competence in digital education (C-code) project within the framework of the excellence in Africa initiative.