Kabale University and NEMA plan to collaborate on education for sustainable development
Collins Mann
Today, Kabale University hosted a team from the National Environment Management Authority (NEMA). A selected team of the University officials together with the NEMA team discussed possible collaboration in key areas of mutual interest. This visit was a follow-up by NEMA from an earlier visit in 2017 to KAB.  In/ a day-long working engagement, the teams discussed key achievements of the University in the area of environment protection, sustainable use, and environment-sensitive curriculum.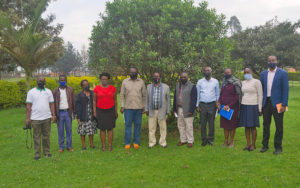 The NEMA team appreciated the greening of the KAB main campus at Kikungiri hill and specifically commended the planting of trees in key areas around campus. In welcoming the NEMA guests, the DVC F& A who represented and the University Management reiterated the University's commitment to the National Development agenda. She thanked NEMA for the initiative to see that KAB is central in not only environment management on campus but also as a beacon of good environmental practices in the region.
In planning to work together with the regulator, the Dean, Faculty of Agriculture and Environment Sciences, Associate Professor Wilson Bamwerinde highlighted the importance of the regulator supporting the academic programs which are aligned to NEMA's environmental watch and promotion mandate. He also pointed out research as a key area for NEMA to link with the University.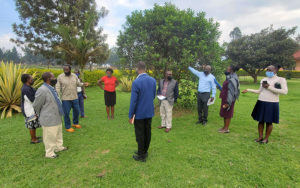 The NEMA team leader Mr. William Lubuulwa welcomed the University's positive reception of the NEMA officials. They were thankful for the progress and their proposals for making better the KAB campus and the neighboring community of Kigezi.  He challenged the University to make better use of the God-given resource of rainwater and to continually engage students in keeping their environment clean. Both teams agreed to adopt a synergistic working relationship that shall see NEMA working closely with faculties.
Canon. Benon Kwikiriza who represented the Academic Registrar in the meeting thanked NEMA for coming and encouraged them to maintain the cordial relationship with the University. The NEMA team comprised of: William Lubuulwa, Senior Information Education and Communication Officer; Edith Akurut, Environment Officer; Judith  Naluyima, Senior Environment Education Officer; Wilbert Ikilai Senior Environment Education Officer; Elia Kategaya; Isaac  Tindyebwa Senior Environment Education Officer;
The KAB team was comprised of Mrs. Anny Katabaazi Bwengye, DVC Finance, and Administration; Assoc. Prof Wilson Bamwerinde, Dean Faculty of Agriculture and Environment Sciences; Engineer Emmanuel Ngirabakunzi the Estates Officer; Can. Benon Kwikiriza, Deputy Academic Registrar;  Tobus Muzoora,  for Guild president, Susan Kangume, Assistant Lecturer and Ms. Susan Mbabazi, Administrative Officer, Office of DVC AA.
By Godfrey Sempungu
Senior Communications and Branding Officer